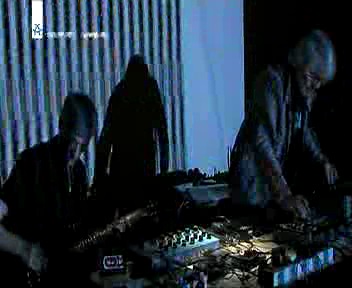 left: Jammin' Unit (electronics + guitar) + right: Sea Wanton (sampling, shortwave-radio, vocals)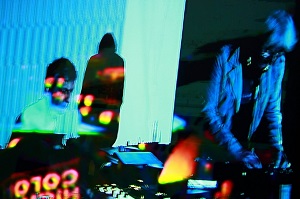 played the 'Liquid Sky Berlin' show #48', at 'Alex-tv Berlin', in 2015. images + glitches courtesy of 'adsx'. many thanks to Dr. Walker (from 'Liquid Sky Berlin' / 'Air Liquide') for invitation. click on image to watch the video ...
"...being far far away from the image of those "beer drinking, eating hot dogs, fun having krauts ..." find us on
, 'soundcloud', 'discogs', 'mixcloud', and 'youtube'. for all inquiries, please write to 'Sea Wanton' at the following address: resistance(at)nontoxiquelost(dot)de
planned (for 2017): in fact, it's planned to upload ALL
songs to 'bandcamp' to make them available as 'digital downloads'. planned (for 2018): there will be another product, which will be named - surprise, surprise ! - 'N' and it will contain a queer version of 'Dulce et Decorum est' (a poem by 'Wilfred Owen', written in 1917).
current (we're not slowing !!): the brand-new album is named 'medialunas'. you can listen to the 13 songs at 'bandcamp'
. and it's planned to release another cd (as a 'digipack') on the label 'Klanggalerie'. it will be named 'ENZ ROUGE' (all sounds by A. Laaf and Sea Wanton,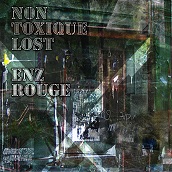 artwork design by 'DJ Vrhovny').
do you want more informations about the releases of 'Non ToxiqueLost' ? then, click on
button to get an overview ... and this is/was the story of 'Non ToxiqueLost'
In the beginning of the 80s, the band 'Non ToxiqueLost' (short name: 'NTL') was founded in Mainz, Germany. The eponym for this project was taken from the term "mustard gas", a chemical weapon, which had been invented by the german scientists named "Lommel" and "Steinkopf" during World War I under the acronym of "LOST" . Though the band's name refers to the "unperilous" character of this music, in the end 'Non ToxiqueLost' also acted as a means for a fight, the very fight against the deadlocked patterns of the culture of music of that time. Formed by members of some local "Punk"-bands, founded by Sea Wanton and Achim Wollscheid (aka 'S.B.O.T.H.I.'). Later on, S. Schütze (aka 'T.poem') joined to play bass, violin and special (electronic) effects and P. Prieur, called "Pogo", did the vocals. Although 'NTL' often has been labelled as part of the "NDW" (= "Neue deutsche Welle") and sometimes even influences of "Jazz music" have been (wrongly) mentioned, the band saw its position in the first instance in the context of an "industrial movement". When 'NTL' was founded in 1982, its uncompromising musical approach was significantly inspired by pioneers of the "Industrial Music" like Throbbing Gristle, SPK and Whitehouse. Out of these influences, 'Non ToxiqueLost' developed its sound as a trance-esque cocoon of clashing sounds of walls, pulsating synthesizers and angry vocals, which draws the listener into an emotional maelstrom, leading from fear, pain and desperation to rage and unlimited aggression. From time to time very static and pushed on by brute rhythms, 'NTL's music is uncompromisingly tough and this is exactly why it can be considered as an anomaly of that Germany of the early 80s. Similarities are seen more with bands like 'Pacific 231' (from France) or Esplendor Geometrico' (from Spain). In essence, there are two important ideas crossing the band's whole oeuvre: the processing of the "everyday life" experience, interweaved with an explicit political attitude. A large impact came from J. Stender, who had been a member of 'P.D.', then. His talent, to create german lyrics on "everday life" "on the run", conveying the "concrete" and "direct" contents, had been a adequate stylistic device to handle the facts of a "grey german reality" of those days. But in contrary to 'P.D.' and 'P16.D4', 'Non ToxiqueLost' objected to being classified into the "art" genre. Indeed, there were some references to the current "art"-movements, but the music was not to be "avantgarde", even if some external observers could get this impression. But 'NTL' combined its conceptions about music with the idea to be creative using existing objects and to, aside from instruments, also use unconventional sound sources - this is another example for the realisation of the "concrete" and "everyday life". At the same time, the music has been the radical expression of an oppositional attitude. With 'NTL', Sea Wanton (the singer) realized his intention to found a band, which dealt with the social and political boredom of its reality in a challenging way. 'NTL' did not only intend to distance itself from the reception of music, in general, but it provoked a concrete hassle with those crusted forms of understanding music and the culture of the youth. The band was permanently confronted by an environment which was deeply into the "Rock-music" culture of the 70s, public places like pubs and youth-centres were dominated by the "Hippies" and "drug-abuse" cosiness. For a project like 'Non ToxiqueLost' that meant a struggle for "free-spaces", not hostility, but also the neccessity to become accepted as something new. To a certain extent, as an idea of the "Punk"-movement, the philosophy of 'NTL' aimed at provocation and the radical realisation of its own ideas. Accordingly, the turning away from the established mechanismn of the "music-business" did not only affect the musical style, but also the production and merchandising of the sound storage medium. It was logic for 'NTL' to select the compact-cassette as a medium for its music. This was "the" medium, which allowed the musicians as opposed to anything else, to keep in control over their musical and creative work and a direct merchandising, without being forced to take part in the profit-orientated "machinery" of the "music-business". In 1982, the first recordings were published on the "d.i.y."(=do it yourself) founded "cassettes only" label called "Can Can", which were to be followed by ca. 30 further releases. Inspite of this high grade of productivity, encompassing mostly the studio- and "live" material of 'NTL', but also some cassette-compilations featuring some "international industrial" bands, 'NTL' and "Can Can" remained a creative "action-area", which was not perceived as a "full time job" or even as the "meaning of life". For a first vinyl release, a strictly limited edition, you had to wait for some years. The songs on the lp-album, called "Wanton", released in 1986, a selection of material, which had been published earlier on compact-cassette, expresses something like a "subtile" toughness (on a long range), which drills slowly in your auditory canal and the band herself accurately characterises it as "industrial muzak". As opposed to the high output on sound-medium there were only rare chances to experience the band on stage. Only a few events like those in Mainz and Trier (Germany), at the "Recloose Festival" in London, in Amsterdam , at the "Geminox-Festival" in Frankfurt (Germany) or at the "Berlin Atonal 2 Festival" took place. Even though the performance at the "Berlin Atonal 2 Festival" got an especially good reputation and positive feedbacks with those "friends" of "abstract music", 'NTL' remained true to itself and did not devise any ambitions to change its strategies of merchandising. The band was more interested in the construction of a national and international community of producers and listeners of "abstract" and "experimental" music. There was a little network(ing) in the Mainz, Wiesbaden and Frankfurt - area (Germany), e.g., in the atmosphere of the "Selektion" label (with groups like 'P16.D4' and 'S.B.O.T.H.I.'), resulting in friendly contacts and sometimes personal cooperations within the music processes (including some sessions and live-performances). More contacts were established with "Graf Haufen" (Berlin) and soon reached out to "cassettes only" labels, based in France, the U.K. and Italy. Besides his membership with 'NTL', Sea Wanton had started publishing a fanzine called "Handbook of Fun" in 1983, which intended to be a medium for subversive communication. The fanzine had been a means to distribute words and artworks ("collages"), which pointed out the protest against the established structures of the societies and understanding of "art" or crusted "music-cultures", and thereby it can be interpreted as a printed form of "the same", which was also articulated by 'NTL's music. Furthermore the "Handbook of Fun" constituted a forum for experimental music, distributing contact-addresses (with different "cassettes-only" labels or juicy record-shops), thus being part of an international network of the "industrial scene of the 80s". NTL came up against those established patterns of their environment with a radical "musical" denial, even though expressed in a distinct (german) language, only very few could understand. You could say, that this pull-esque, rhythmical toughness of some tracks, which meanwhile is an essential part with numerous "industrial bands", appeared some years "too early". The fact, that this music caused more embarassing to irritating reactions by most listeners, plus the consequent policy of publications and the responsibility for the "subversive underground", are (presumably) the cause for being known by the "in-crowd", until now. Even though or exactly because the "hearing customs" have changed in these last decades, the music of 'NTL' has kept hold of its attraction as a "pioneer" achievement of the so-called "rhythmical Industrial". Since some years, Sea Wanton, accompanied by new companions, is again active as 'Non ToxiqueLost'. While now using contemporary sound sources like samplers and computers, it is (as always) bound to the idea of electronic toughness and a political attitude and, thus, creating its own musical cosmos. Parallel to this, a selection of early tape-recordings has been re-released on vinyl and gives a fine overview on the complete works of the band.

(liner notes by T. Pargmann and C. Ressler (2006)) click on button to listen to 'Sam 41643' (from 'Träneninvasion', which appeared on this 'card-sized usb flash memory' in 2014). 1 GB USB flash memory business card published in an edition of 50 hand-numbered copies containing 76 minutes of music in lossless and in lossy quality, one 8 minute video track and a 16-page PDF-booklet. The front of the card is printed while the backside remains white and is hand-numbered in black.

"If I were psychoanalist I'd say these people have finally arrived to meet their own "self" or well, maybe it all is nothing but a trip that has gone bad ..." Andrea Ferraris (Chain D.L.K.) /bin/med/usa, CD, 'Heathen Harvest' Saturday, December 01 2007 @ 12:00 AM PST Contributed by: Alan Milne

"Now I have a confession to make here. Quiet at the back whilst I'm rambling. I have a deep respect for all things German. Love their cars. Love their food. Even some aspects of their dubious politics through the ages hits a chord with me. Which kind of includes their uniforms and medals and all the military memorabilia in those conflicts which we are not supposed to mention for fear of being labelled a certain type of person. If you know what I mean. See Lemmy out of Motorhead or Ron Ashton of The Stooges as examples. The country is fantastic to drive through and their Frauen divine examples of Germanic beauty. This is by the by though. I've held a secret fascination with German music ever since I first heard Amon Düül II and their mighty 'Yeti' release way back in 1970. I followed that up with a serious love affair with Der Plan and DAF and all their ilk in the proceeding years. By fuck that was good times for German music. Then I got into all the EBM and heavy Industrial stuff, far too many groups to mention here, and I still find myself drawn to anything remotely connected to the German music scene even today. A special mention must go to Einstürzende Neubauten who are still going strong. Resilient fuckers old Blixa and co. Which ties in nicely with this review for the latest 'Non ToxiqueLost' release '/bin/med/usa which I've had spinning away for the last few days…not the act hardly known but by only a select few, including me who adored them, Last Few Days who were something else in every respect…and golly gee whiz if this isn't a fucking ace release that, at the very least, demands you should hear it at least once in your lifetime. You know that feeling you get when you hear a piece of music for the first time and you get this strange sensation going up and down your spine? Well '/bin/med/usa' did that for me. The funny thing is that in reality the recording isn't original in any shape or form…but it has that 'certain something' that just can't be described to it that makes you go kind of 'wow' when you hear it. Or that could just be me because I'm wired up and weird that way occasionally. 'Non ToxiqueLost' have been around the block for ages now. Part of the early 80's German Industrial counter culture they have ploughed many a field in different musical genres over the years. Flitting seamlessly between whatever takes their fancy at the time. You just never know what to expect from these guys. They take their music from many influences and mould it into their own sound which they are currently experimenting with at the time. This approach to their music is shown to great effect in '/bin/med/usa' where dance meets rock…and takes in experimental and other musical styles at a whim. There are traces of DAF, Seilwolf, Einstürzende Neubauten…even Die Krupps…to be found lurking within these 16 tracks that twist and turn with an assured Nonchalance that can only be admired. Take the first track 'adresse:boese' for instance that starts with some static and German vocals before descending into a turbo charged electro techno light nightmare of beats and screamed vocals. Or how about the DAF (ish) 'die schneekoenigin' resplendent with a thumping drum beat. If that doesn't seem your thing then maybe 'buchenwald' and 'opium 2' with their sludge rocking style would be to your liking. Looking for a sexy laid back groove…then seek out 'Wendy' for your kicks. So many highlights in a quite superb and highly engrossing recording all given that added sparkle by the German, and some English, vocals which are screamed, barked, mutilated or crooned. They rage. They rant at fuck knows what. They seduce. They fuck you over, in a nice way, like porn studs on ten tablets of high dose viagra. They are 'Non Toxique Lost'… and don't you ever fucking forget it. 'Vorsprung durch Technik' (translates to: 'to lead by technology', note by Sea Wanton). Sea Wanton (vocals, effects), C. Reichelt (electronics, drum machines, effects) and A. Türpitz (electronics, drum machines, effects, guitar) are the guys to thank for this impeccable recording. Buy it. Play it. Embrace it. Love it. Then send me an e.mail of thanks for leading you directly to this fabulous release. It's the least you can do."