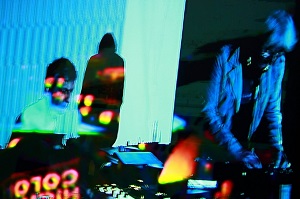 Jammin' Unit (electronics + guitar) + Sea Wanton (sampling, shortwave-radio, vocals) played the 'Liquid Sky Berlin' show #48', at 'Alex-tv Berlin', in 2015. image courtesy of 'adsx'. many thanks to Dr. Walker (from 'Liquid Sky Berlin' / 'Air Liquide') for invitation.
latest news: NTL played the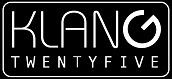 festival in Vienna (in June, 2018), organized by
we performed alongside John Avery (Hula), Simon Crab (Bourbonese Qualk), Zahgurim, Ron Wright (Hula), Thighpaulsandra (Coil), Tabor Radosti, Zea (The Ex), Renaldo & The Loaf, Rapoon, and Eric Random. and we enjoyed all !! the shows !! hats off to Mr. W. Robotka (from 'Klanggalerie', the organizer of this festival).
(image copyright W. Novak, 'stills.eraserhead.at').
find us at


for all inquiries, please write to 'Sea Wanton' at the following address: resistance(at)nontoxiquelost(dot)de
planned (we're not slowing !!): the next album will be named 'n' and it will contain a queer version of 'Dulce et Decorum est' (a poem by 'Wilfred Owen', written in 1917).
current: the brand-new album is named 'ENZ ROUGE'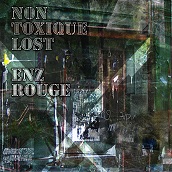 (cd, digi-pack, released by the label 'Klanggalerie'.) all sounds by A. Laaf and Sea Wanton, artwork design by 'DJ Vrhovny').
you have to categorize this music according to the message of the lyrics, the intonation of the vocals and the choice of instruments. the rhythm gives you the impression of harmony, in spite of some disharmony. the songs reflect the following: pain, despair, aggression, insanity, fear, rage, sadism, death, longing, sadness, humility and degradation, in other words, no melancholy or self- pitiness. sometimes destruction and insanity, as well as a certain fanaticism is noticed. it's the search for something remote controlled that is deeply tied. the cry of your soul for liberation. one of its components is love. that means death and the underground, chaos and military sounds. longing for dissolution. to go by train means departure. searching the target, that means a new day, a new love, a new way. ... confusing, chaotic and scary. imprisoned, broken to pieces. to break a soul with force, pain and punches, delivering on a garbage-dump, like punk, rubbish, scum, is an emotion which I'm very familiar with. childhood and parents. looking at it another way: the colours are not necessarily bright, but there is a green course, a heart, the sun on top of the left side and the endlessness of the earth and the blood. (words courtesy of 'Mona')
do you want more informations about the releases of 'Non ToxiqueLost' ? then, click on button to get an overview ...

/bin/med/usa, CD
"Now I have a confession to make here. Quiet at the back whilst I'm rambling. I have a deep respect for all things German. Love their cars. Love their food. Even some aspects of their dubious politics through the ages hits a chord with me. Which kind of includes their uniforms and medals and all the military memorabilia in those conflicts which we are not supposed to mention for fear of being labelled a certain type of person. If you know what I mean. See Lemmy out of Motorhead or Ron Ashton of The Stooges as examples. The country is fantastic to drive through and their Frauen divine examples of Germanic beauty. This is by the by though. I've held a secret fascination with German music ever since I first heard Amon Düül II and their mighty 'Yeti' release way back in 1970. I followed that up with a serious love affair with Der Plan and DAF and all their ilk in the proceeding years. By fuck that was good times for German music. Then I got into all the EBM and heavy Industrial stuff, far too many groups to mention here, and I still find myself drawn to anything remotely connected to the German music scene even today. A special mention must go to Einstürzende Neubauten who are still going strong. Resilient fuckers old Blixa and co. Which ties in nicely with this review for the latest 'Non ToxiqueLost' release '/bin/med/usa which I've had spinning away for the last few days…not the act hardly known but by only a select few, including me who adored them, Last Few Days who were something else in every respect…and golly gee whiz if this isn't a fucking ace release that, at the very least, demands you should hear it at least once in your lifetime. You know that feeling you get when you hear a piece of music for the first time and you get this strange sensation going up and down your spine? Well '/bin/med/usa' did that for me. The funny thing is that in reality the recording isn't original in any shape or form…but it has that 'certain something' that just can't be described to it that makes you go kind of 'wow' when you hear it. Or that could just be me because I'm wired up and weird that way occasionally. 'Non ToxiqueLost' have been around the block for ages now. Part of the early 80's German Industrial counter culture they have ploughed many a field in different musical genres over the years. Flitting seamlessly between whatever takes their fancy at the time. You just never know what to expect from these guys. They take their music from many influences and mould it into their own sound which they are currently experimenting with at the time. This approach to their music is shown to great effect in '/bin/med/usa' where dance meets rock…and takes in experimental and other musical styles at a whim. There are traces of DAF, Seilwolf, Einstürzende Neubauten…even Die Krupps…to be found lurking within these 16 tracks that twist and turn with an assured Nonchalance that can only be admired. Take the first track 'adresse:boese' for instance that starts with some static and German vocals before descending into a turbo charged electro techno light nightmare of beats and screamed vocals. Or how about the DAF (ish) 'die schneekoenigin' resplendent with a thumping drum beat. If that doesn't seem your thing then maybe 'buchenwald' and 'opium 2' with their sludge rocking style would be to your liking. Looking for a sexy laid back groove…then seek out 'Wendy' for your kicks. So many highlights in a quite superb and highly engrossing recording all given that added sparkle by the German, and some English, vocals which are screamed, barked, mutilated or crooned. They rage. They rant at fuck knows what. They seduce. They fuck you over, in a nice way, like porn studs on ten tablets of high dose viagra. They are 'Non Toxique Lost'… and don't you ever fucking forget it. 'Vorsprung durch Technik' (translates to: 'advance by technology', note by Sea Wanton). Sea Wanton (vocals, effects), C. Reichelt (electronics, drum machines, effects) and A. Türpitz (electronics, drum machines, effects, guitar) are the guys to thank for this impeccable recording. Buy it. Play it. Embrace it. Love it. Then send me an e.mail of thanks for leading you directly to this fabulous release. It's the least you can do." (review by Alan Milne, 'Heathen Harvest', 2007)