the performances so far:

1982 D, Trier, 'Schirm'
1983 D, Berlin, 'Pankehallen', 'Berlin Atonal 2 Festival'
1984 D. Frankfurt, 'FU-Mensa', 'Geminox - Festival')
1985 GB, London, 'Ambulance Station' ('Recloose N.I. Festival')
1985 NL, Amsterdam, Festival
1985 NL, Arnhem, Festival
2008, D, Scheer, 'Klangbad Festival'
2010, PL, Wroclaw, 'IX Industrial Art Festival'
2015, D, Berlin, 'liquid sky berlin' (Alex-tv)
planned: 2018, A, Vienna 'Klang 25'




click here to get more informations about the videos & cassettes & vinyls and anything else
(from 1982-)



'NTL', 1982, from the left to the right:
'Pogo' (vocals), Achim Wollscheid (electronic effects, synthesizers, guitars), Sea Wanton (vocals, electronics, synthesizers), T.poem (bass, violin, electronic effects),
image courtesy of 'cherrypop'

and in 2008- Achim Wollscheid - Sea Wanton (artwork by Sea Wanton)


and this one was done in 2015: Jammin' Unit & Sea Wanton (artwork by Jammin' Unit)




...from where the putrid smell rises (liner notes by Sea Wanton)

Enraged, the singer hurls his slim body against the concrete-post. Is there a bone grinding?
Loud noise, some bass loops and the throbbing rhythm of the sequencer driving
behind the stage - into the flashing movie loops.
Many well known faces, even in the huge crowd.

At this concert, the idea for 'Non Toxique Lost' (NTL) is born.
'Pogo' (formerly member of 'Suburban Punx') rips the microphon out of
Genesis P-Orridge's hand and howls his "you need discipline".
(watch the video on Youtube)

T.poem ( member of 'Jean Gilbert') knows all the 'Throbbing Gristle' takes anyway
but prefers the sounds of 'Whitehouse'. Achim Wollscheid (formerly member of 'Die Edelweisspiraten')
has been experimenting with new movie and sound structures for a few years.
Sea Wanton (formerly member of 'Messehalle' and 'No Aid') bought a new synthesizer only yesterday.
Thus, it may start immediately! The band is named 'Non Toxique Lost' (NTL). ('Lost' is a chemical weapon).
And while ever so many compact cassette distribution-companies are created in Germany and elsewhere,
it's logic for the first product to be a compact cassette. Thus we move to 'Pogo's 2 room flat and take over the
bathroom (to use the fine reverb). Roger Schönauer (from 'P16.D4') turns on his 4-track reel-to-reel 'Teac' tape recorder,
'Pogo' whispers into the mike as much as it can take. Achim Wollscheid rips wild riffs on his electric guitar
and then pushes them over flanger, phaser and distortion gears. T.poem now founds
(together with Peter Klum) a cassette label, which is called 'Can Can', a "cassette-only" label.
('Can Can' is the name of a french dance, by the way).
And this is where the first 'NTL' product is released (mind the name
'Ohne Titel', which translates to 'No Title'). Some days later, the 'Losts' are already playing live.
T.poem induces some deafening groans and shrill howls from his violin. Sea Wanton mistreats his
syntheziser, sequencer and his drum/tape machine. Achim Wollscheid thrashes on his
6-string 'Fender' guitar and 'Pogo' sings along cynically, together with the excited audience:
"we are satisfied...satisfied..." while pounding wildly in front of some punks with his black leatherboots.
In the middle of the set the power is turned off ("disturbing the peace" the policeman says)
and when he's right - he is right ! No doubt - there is now a need for a rehearsal room.
A youth center is quickly found, the amps are turned on, the volume is pulled up to
its limits and shortly thereafter the last few listeners are
tormented ("...this is only noise, why don't you try to make some music?" ).
Thus, again the equipment must be packed and moved off as fast as we can but as luck would have it, there is another room.
Right above the department of pathology of the University of Mainz (Germany). Once again everything is set up
and during the rehearsal you can see the strange carcases through the holes of the rotting floor
from where the putrid smell rises. The volume is increased and 'Pogo' shouts, as if wanting
to wake up those lying down there - but the dead cannot dance anymore! (excuses to 'Dead Can Dance' !)
Someone from the university administration has "ethical" doubts and moves
the 'Losts' to a so-called "true" rehearsal room.
And here, the next section of the 'Losts' story starts ...

Sea Wanton
at the "true" rehearsal room, 1983 (image courtesy of Ulrike B.)
(playing his Korg MS-20,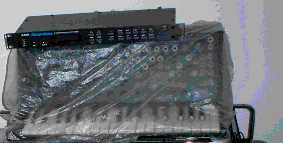 the MFB-rhythmmachine
and the MFB-sequencer,

using a Novanex 100-OPS amplifier and T.poem's 'Revox' reel to reel tape machine)


further background informations
It was Joachim Stender who started the whole thing, somewhen in 1979. He founded the band 'Messehalle'
and pushed their name into the 'Sounds', a german music magazine. Some chaotic gigs established
a small 'punk/new wave' audience. While Sea Wanton played bass with 'Messehalle', they took part in the
'Neue Deutsche Welle' (NDW) (a german derivate of the 'New Wave' music development).
Lot of own material and cover versions of 'S.Y.P.H'., 'Der Plan' and 'Mittagspause' (to name a few of the best !).
Some of their songs were released on the "cassette-only" label 'Neuer Frühling' (sometimes called 'Nouveau Printemps',
which later became 'Can Can'). Later on Joachim Stender quit to form 'P.D'. (now called 'P16.D4'.)
to become more experimental.
Joachim Stender, 1980, image courtesy of Selektion
Sea Wanton joined a so called "neo post punk" band named 'No Aid'.
('ätzend' translates to 'etching', 'widerstand' to 'resistance').
Sometimes 'No Aid's music reminded of the sonic trials of 'Hawkwind' or 'Amon Düül'. Playing synthesizer, drums and
(bass)guitars, they caused a lot of riot and laughter. But the public was not very
interested in their aggressive and chaotic lifestyle.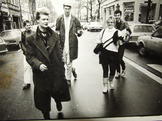 'No Aid ' (ca. 1981) from the left to the right: Sea Wanton, 'Pak' (Nikolas von Bevern), Mickey Koto, Renate von Bevern, Alex
Thus, Sea Wanton created 'Non Toxique Lost' (short name: NTL). After all the quarrels
about drug consum and hippie-behavior, he intended to build up a more political, a more social
encouraged and sophisticated band. With strong links to the newest art movements
and against the political stupidity of those "modern times". He had
also been publisher of a so called fanzine, titled 'Handbook of Fun'. The magazine
(call it simply a fanzine, which pretended to be a "fun-zine") was made of some fotocopies in
black and white and only contained collages and band propaganda. Also, he worked for the
german 'Sounds' music magazine. 'Pogo', the obsessed 'Throbbing Gristle' fan, did the vocals
(being on duty as frontman with the 'Suburban Punx', also). Achim Wollscheid and nowadays
in guidance of the 'Selektion' label, an experienced guitar player and art student, was
responsible for the distorted and echoed sounds. T.poem did some violin work and damaged
the self-invented "steeltubes", while on stage (e.g. live at the 'ATONAL 2 festival', 1983, Berlin).
Peter Klum did some tape cuttings.


'NTL', live at the 'GEMINOX-festival', 1984, Frankfurt (image taken from the magazine 'Pflasterstrand')
Great stuff, than !! (for some days we have been friends !!)
NTL gigged in some european countries as well.
Besides 'Psychic TV', 'Zos Kia, 'Bourbonese Qualk' they played only once.
In 1986, 'NTL' released their first album. The
longplayer was called 'Wanton'" (label: 'Can Can') and included some calm and cool (NOT CHILLIN' !)
sounds. But the 'Losts' (as their fans called them friendly) failed to place this product in the big music machinery

(yes, I'm only kidding).
They had to sell the lp while they they performed in Trier (D),
Frankfurt (D), Berlin (D), London (UK), Amsterdam (NL) and Arnheim (NL).
Although Jammin' Unit (from 'Air Liquide') and Heiko Wöhler (synthesizers and samplers) helped out at two gigs in the Netherlands
(which had been promoted by 'Staalplaat'),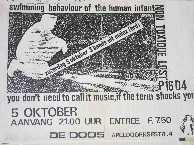 'NTL' disappeared from
the stage of active, influential industrial groups, almost unnoticed by friends and foes ...